The European Salary Survey 2018 is now available
The Robert Walters European Salary Survey 2018 is now available and you can request your free copy now. Don't miss out on the most up to date salary information and employment trends in the UK. The annual book contains recruitment market updates, hiring advice and salary information from across our European markets.
For employers - With the latest information on salaries and employment trends across a range of industries, as well as hiring tips and advice, our 2018 salary survey will ensure you are best positioned to attract and retain top talent in your sector.
For employees - Due a pay rise in 2018? Find out what you're worth with the most comprehensive list of global salaries in the industry. Or if you're considering making a move, find out what skills and experience employers are looking for, across a range of sectors in Europe.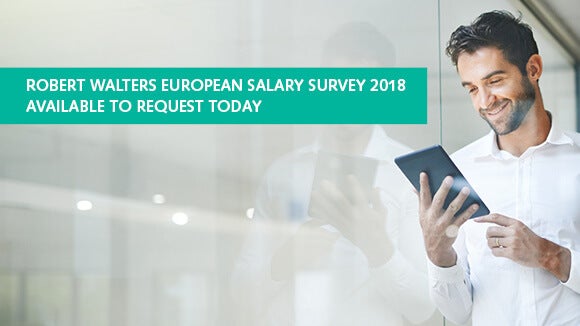 About the European Salary Survey 
Now in its nineteeth edition, the Robert Walters European Salary Survey is a comprehensive review of professional salaries and recruitment trends across Europe. The book also covers regional recruitment overviews for Australia & New Zealand, Greater China, South East Asia, USA and Middle East & Africa.
The European Salary Survey is free and based on the analysis of permanent, interim and contract placements made across the UK, Ireland, Belgium, France, Germany, Luxembourg, Netherlands, Portugal, Spain and Switzerland. 
Request your free copy of the 2018 survey today, or alternatively, download our app for Apple or Android devices.
Hiring trends in the UK in 2018
Demand for professionals should continue in 2018 despite uncertainty around Brexit. Businesses will implement projects to adapt to changing economic circumstances, develop new supply chains and consider expanding into international markets, all of which will drive hiring. Regulatory specialists will be sought after by banks and financial services firms due to ongoing legislative pressure. As demand outstrips supply for compliance, legal and risk professionals, employers will struggle to secure top talent. Hiring activity will remain high in Manchester and Birmingham, with the tech sector expected to expand in both regions.
Manufacturing and FMCG firms may be quieter as Brexit approaches and new supply chains need to be established. However, this should also create demand for procurement specialists with international experience. Salary growth will be limited across most roles. The technology sector will be the exception, with cyber security and business intelligence specialists demanding significant pay rises when moving roles.
Regulatory specialists will also receive increases due to the shortage of these professionals. Employers will need to emphasise the potential for career progression when looking to secure top talent, offering tangible requirements for promotion. Businesses should consider offering remote working, with professionals prioritising work-life balance when choosing a role. Due to continuing skills shortages, operating rapid hiring processes will be vital to avoid losing desirable professionals to competitors.