The 2022 UK Salary Calculator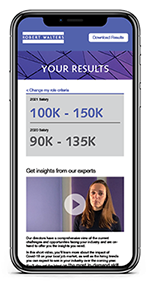 Find out how much you're worth with the UK's most comprehensive, data-led salary benchmarking tool. Whether you're due a pay rise, promotion, or bonus, download the 2022 Salary Calculator and review accurate market salary and pay averages to see how you compare to others in your sector.
Developed in partnership with a market leading data provider, we assessed over 100,000 jobs posted over the last 12-months, to provide you accurate data points on UK salary ranges, averages and expectations for permanent, contract and interim positions across the UK.
We offer salary and market insights for permanent, contract and interim positions in London, Birmingham & the Midlands, Manchester & the North and Milton Keynes & the South East, across the following discipline areas*:
Accounting & Finance
Financial Services & Banking
Human Resources

Legal
Manufacturing & Engineering
Marketing

Procurement, Supply Chain and Logistics
Technology
*For salary and remuneration information on Part-Qualified & Transactional Finance, Business & Management Support, Marketing and Contract Finance, visit the Walters People website here.
The UK Salary Calculator is a free benchmarking tool and based on the analysis of over 100,000 permanent, interim and contract placements made across the UK, including predictions for the year ahead. Access your free salary benchmarking tool today.
Why is salary benchmarking important?

Salary benchmarking is essential for comparing pay and remuneration packages offered by an employer against the market and of those offered by competitors. Pay and remuneration benchmarking can provide significant competitor advantage, through the retention and attraction of top talent and enhancing an organisations reputation.

What is the salary benchmarking process?

Salary benchmarking is the process of comparing salaries across the market for a particular job and providing a range and average for a particular role which can help guide an employer's decision-making on pay or bonuses during appraisal period or when making a new hire.

How to do salary benchmarking?

In partnership with a data collection specialist, a benchmarking tool offers a fully comprehensive list of salary ranges and averages based on location, experience level and more. You can view the latest salary range and averages in the 2021 salary guide.

What are the benefits of using a salary benchmarking guide?

With competition and demand for certain skill sets expected to spike in 2021, comparing your salary offering and employee value propositions against the market can help you to attract new talent, and retain existing employees. Using a salary guide to benchmark your 2021 offerings can help keep you ahead of the competition.

Do I need to hire a contract, temp or permanent employee?

We will partner with you to assist in the decision-making process. Sometimes we will suggest a combination of contract, temp and permanent solutions on a case-by-case basis. Contract hires are great for gap filling and ensuring business as usual specifically during seasonal periods when many permanent employees are on annual leave. Contract hires are also a great approach to 'try before you buy', to test their technical skills and team fit before offering them a permanent position.

How do I know if my contract hire will be in or out of IR35?

We are partnering with Qdos, a UK leader in insurance and advise for UK-based contractors, freelancers and consultants. Our combined expertise and collaborative approach to working with leading businesses across the UK, we provide pragmatic solutions and consultancy services to determine if the assignment will be in or out of IR35.

How do I evaluate employee pay & compensation during performance reviews?

Salary and compensation reviews often take place during the annual and half-year employee performance reviews. In tangent with the employee performance scoring, you can use a salary benchmarking tool to inform the pay and compensation review process. The tool also gives good insight into market trends and in-demand skill sets. So, use performance reviews to see where the employee fits relative to the external jobs market and avoid losing in-demand talent through effective pay and compensation strategies.