Welcome to Talent Talk with Robert Walters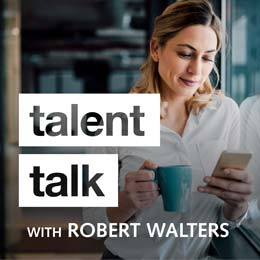 Talent Talk with Robert Walters is our global podcast series bringing together business leaders, recruitment experts and career growth specialists to share their insights and views on the latest hiring and career growth trends. So whether you're an industry leader, people manager or job seeker, our podcast series has something for you.
Subscribe to Talent Talk with Robert Walters to automatically receive the latest episodes, or listen to them now by clicking on the episodes below.
Search our latest podcast series
Leadership Lessons Podcast Series

In the Leadership Lessons podcast series our team explore the route to success for business leaders across the UK. Discussing top career advice tips on how to progress your career and achieve your long term career goals.
Market Insights Podcast Series

In the Market Updates podcast series our experts discuss developments shaping UK industries and markets.
Leading from the Front Podcast Series

We talk to the UK's leading businesses about what they're doing to engineer change and equality in their workplace. We explore what D&I structures they have governed and how it is accelerated their D&I journey.
In this four-part series Robert Walters Consultant Steve Church is joined by Chris Pinner, Founder at Innerfit, an employee wellbeing service that believes if you feel well you work well. Steve and Chris discuss the return to the office from a mental health and well being perspective, the challenges faced by leaders and employees, and potential solutions going forward.