Five tips on hiring a high calibre operations manager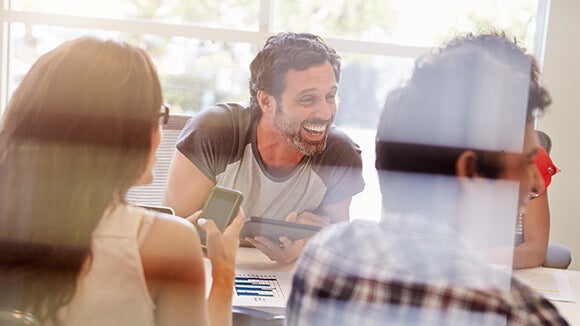 In a highly competitive market, with growing demand for experienced and competent operations managers, employers need to focus on recruiting the right person for the job, not just those with the right technical skills.
Here we discuss the top tips when looking to hire the best operations manager in the market. Neil Morgan, Associate Director for Robert Walters Supply Chain & Logistics, shares his views on how to hire the best person for the job.
Focus on those with e-commerce experience
E-commerce is a rapidly growing market and candidates with e-commerce experience are highly sought after by hiring managers and are in high-demand.
Neil explains, "businesses shouldn't be concerned about what sector a potential new employee comes from. With the majority of companies going online, hiring managers should consider all sectors, not just retail. A candidate with an e-commerce background and experience can be hugely beneficial to most businesses, in particular SME's looking to transition onto online platforms."
"Having a manufacturing background is also desirable for hiring managers because the sites are more automated and have a broader understanding of LEAN principles. Having these principles can decrease business costs and provide insight into the candidate's management type."
"In recent years, we have seen a number of e-commerce businesses progress from SMEs at astonishing rates. Those who started off as operations managers within a start-up SME are now sitting at board level. Having developed and grown with the business, we often see people working for smaller businesses achieving bigger successes."
SMEs can use their success stories to their advantage, comparing them to working for a larger 3PL firm where the candidate may feel they are just another knot in a very big chain. Being part of an SME, the employee can be part of the story from the beginning, encouraging them to treat it like their business for which they hold a lot of passion.
Speeding up the route to hire
Typically, the route to hire for operations managers can take a long time. Hiring managers need to be very commercial in their approach to hire due to it being a candidate short market, a quick turnaround is required to avoid losing out to counter offers, which are rife in today's competitive market.
Smaller businesses tend to turn their roles around a lot quicker because they're more agile compared to larger retail business where there are multiple steps in the hiring process.
Communication is essential throughout the recruitment process. Larger companies tend to fall back on this element, but engaging the professional throughout the process can be the difference between a them accepting and declining an offer.
Those who often do well in logistics are 'people-people', they can unite teams and interact well with colleagues
Neil continues, "In today's market, candidates often have two or three counter offers on the table, so hiring managers need to make the candidate feel valued and wanted from the beginning. If you source a good candidate, the speed to hire needs to be increased because top tier candidates are not on the market for very long. Businesses need to avoid wasting time and get them in the door quick."
Find a balance between the hard and soft skills
A logistics environment is very heavily people-focused, so although hiring managers want people who possess the right skills and technical capabilities, they also need professionals who can fit in with the company culture and effectively lead a team.
"Hiring managers need to find a balance between the technical skills and softer skills. During the hiring process, businesses often go back to the cultural fit and you tend to find in logistics environments, which can be a highly challenging environment, that hiring managers will go for people who can seamlessly embed into the organisations culture. This means they'll focus more on the softer skills during the interview stages."
"Those who often do well in logistics are 'people-people', they can unite teams and interact well with colleagues. Recently, we have really noticed that managers are looking for a balance between the soft skill sets and the technical skill sets, those who can do the job to a high standard whilst effectively leading and motivating a team."
Focus on reputation
Often, logistics recruitment relies on the reputation of candidates within the market, Neil highlights that "more informal approaches to recruitment, such as word of mouth and referencing from reliable sources in the market, are relied upon by logistics hiring managers. Through these channels, you're able to better gauge a candidate's interpersonal and management skills."
"Psychometric testing is a good way to both understand a candidate's management style and assess their character before committing to a hire. Typically, clients will put the candidate through three or four interviews with various team members and managers to assess their personality and how compatible they are with the team. However, this can make the time to hire much longer, increasing the risk of losing out to counter offers."
"Realistically our clients are looking for leaders, it's a people-focused role after all, so they need people who possess that leadership quality and can motivate those in their team," says Neil.
Flexible working hours
"If the right opportunity is further away, but a business offers more flexibility for the ops manager, then this can make the difference between a candidate going for a counter offer closer to home. Maximising the potential of a team should be the focus for a business, so they shouldn't work on rigid operating schedules, but instead offer flexible working practices, that make them stand out amongst the several counter offers."
"If you can't entice a candidate through salary, flexibility or even development programmes can be more attractive than a good salary. There can be a trade-off for lower salaries as candidates often see the long-term importance of clear career progression and flexibility so both factors can be more attractive than a higher salary offer."
"Autonomy and more exposure to the wider business is something that can be more readily offered by SMEs, as well as the greater potential to reach higher levels with a clear three/four-year progression plan. Offering a role that offers more accountability and flexibility can be very attractive to operation managers."
For expert help and advice on hiring your next operations manager, contact us today.act us today.