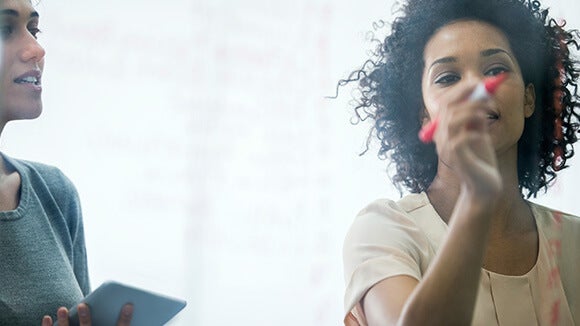 Senior women across several industries share their thoughts and experiences on gender diversity and empowering women in the workplace.



TOP 10 TIPS TO HELP YOUR COMPANY STAND OUT TO WOMEN ON A CAREER BREAK
Women returning to the workforce after a career break offer a valuable resource to employers, plugging skills gaps and boosting diversity. So what do they look for when re-entering the workplace, and how can your company catch their eye?
LOUISE CAMPBELL HONOURED IN GLOBAL POWER 100 WOMEN IN STAFFING LIST
Robert Walters' Managing Director Louise Campbell has been recognised for the second year in the Staffing Industry Analysts' Global Power 100 Women in Staffing.
HELPING WOMEN TO THE TOP OF THEIR GAME
Jennifer Atkinson, CEO of International Travel Connections, shares her inspiring story, from becoming a CEO in her 30s to featuring in the recent BBC documentary, 'The Millionaires' Holiday Club', and how she believes we can help more women to the 'top of their game'.
RETAINING PROFESSIONALS FOLLOWING A CAREER BREAK IS ESSENTIAL
Women add significant value to the workforce and can fill skills gaps employers are facing, so retaining key professionals returning from a work break is essential to promote growth. We look at ways you can retain employees within your business. 
WOMEN RETURNING FROM WORK CAN FILL KEY SKILLS GAPS
Women who have taken a break from their career can make a huge contribution to individual businesses and fill the skills gaps faced by employers. We speak with senior professionals across several industries about effective strategies for attracting women returning to the workforce.
HOW CAN YOUR COMPANY BETTER DEVELOP EMPLOYEES AFTER A CAREER BREAK
Successful companies who are continuing to grow and innovate realise they have the real responsibility of recognising someone for potential and not just their track record. We spoke with a panel of industry experts about successful ways to develop talented professionals within your company. 
ROBERT WALTERS ANNOUNCED AS WMB AMBASSADOR FOR GENDER DIVERSITY
Robert Walters has been announced as a WMB (Women Mean Business) Ambassador for Gender Diversity in Ireland. We speak with Louise Campbell, Managing Director of Robert Walters Ireland about how both she and Robert Walters are promoting gender diversity in the workplace.
Natalie Reynolds, CEO of Advantage Spring shatters the myth that negotiation is a man's game, and offers her advice on how to develop your negotiation skills.  
BUILDING A SUCCESSFUL ETHICAL BRAND - THE STORY OF GREEN & BLACK'S

Green and Blacks co-founder Jo Fairley joined guests from a range of industries at Robert Walters latest Empowering Women in the Workplace seminar, to share her insights into building a successful ethical brand.
SALLY MARTIN NOMINATED FOR QANTAS AUSTRALIAN WOMAN OF THE YEAR IN THE UK
Sally Martin, Director of banking operations, HR and business support recruitment at Robert Walters has been nominated for the Qanta Australian Woman of the Year in the UK award. We discuss the nomination and how Sally has progressed in her career while in the UK.
BALANCING AN INTERNATIONAL CAREER WITH HAVING A FAMILY - CAN IT BE DONE?
Katy Friedman, Group Talent Director at Robert Walters, has been with the company since 2001 and has had a career spanning three continents. She discusses how you can still have a successful career without sacrificing family life.
HOW CAN WOMEN SUCCEED IN TECHNOLOGY?
Like many male dominated fields, technology offers both challenges and opportunities for women who make it their field of choice. Kirsten Smith, Director of Business Applications at Robert Walters, offers an insight on how women can progress in this sector.
TOP TIPS FOR WOMEN PROGRESSING IN AN ACCOUNTING CAREER
Cathy McGlynn, Financial Controller at Robert Walters, offers an insight into how women can progress their careers without sacrificing family life and suggests finding a mentor can help you gain perspective of your career objectives.
HR DIVERSITY POLICIES AND WHAT THEY MEAN FOR YOU
Since April 2015, new legislation has come into force in the UK covering shared parental leave. Maternity leave is no longer exclusively reserved for mothers and can be shared between both parents. Ingrid Armstead, Group HR Director at Robert Walters, discusses what this means for you and your career.