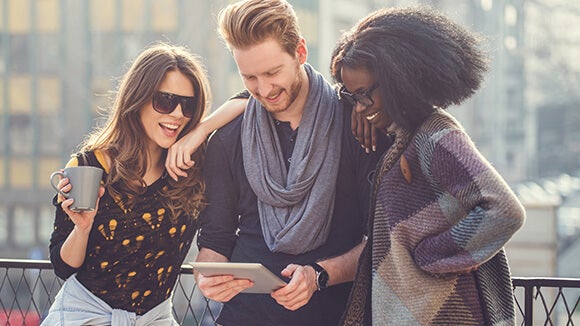 Referral scheme terms and conditions
WHAT IS IT?
The Robert Walters Incentive Scheme (the "Scheme") is open and available to anyone who is not employed by a Robert Walters Group company in the United Kingdom ("You").
Robert Walters Operations Limited ("Us" or "We") have partnered with a third-party supplier to provide those eligible under the Scheme with pre-loaded MasterCard cards which can be used anywhere that accepts payment by MasterCard (the "Card").
HOW DO YOU MAKE A REFERRAL?
You can make a referral via email to submit the contact information of an individual that you think is suitable for a role with Us (the "Candidate"), and as a direct result, the Candidate is either: (1) successfully employed by Us in the UK and commences their employment, or (2) successfully placed in a permanent or temporary role (in any manner including via an umbrella company or a limited company) at a Robert Walters client and either commences their employment if permanent or (if placed in a temporary role) completes no less than four weeks on a temporary assignment.
You will not be considered to have made a referral where:
The Candidate is based outside of the UK;
You refer a Candidate who is already engaged (in any manner including via an umbrella company or a limited company) by a Robert Walters entity globally;
The Candidate is already on Our candidate database ("Profile") at the date that the referral is made;
We have already received the Candidate's current contact information from another source within 12 months prior to Your referral.
NOTE: it is Your obligation to get consent from any Candidate that you may refer to us, prior to submitting their details to Us. You will not have made a referral if You fail to get the consent of any Candidate that You refer to Us.
EYE ON THE PRIZE
If You make a successful referral, You will be eligible to receive a Card with a pre-loaded cash value, the amount of which is confirmed by your consultant.
Once you have made a referral (as set out above), You will be asked to provide Us with some information to allow us to complete a "Know Your Customer" check ("Check")[1]. By making a referral under this Scheme, You acknowledge that Your eligibility to a Card is subject to these Terms and Conditions and a successful ("Check"). You will not be eligible to receive a Card if you fail to provide such information or fail a Check. All information provided to us as part of a Check will be processed in accordance with our Privacy Policy, which can be found here: https://www.robertwalters.co.uk/about-us/privacy-policy.html
Your contact information may be shared with our third-party supplier, solely for the purpose of issuing You with a Card under this Scheme.
WHAT ELSE DO YOU NEED TO KNOW?
For the avoidance of doubt, only the first person to refer a specific Candidate (with the referred Candidate's permission) will be eligible for a Card under this Scheme
If Robert Walters Group is (for whatever reason) unable to get You a Card, then You will receive a substitute gift of approximately the same value subject to these same Terms and Conditions.
Any Card issued to You under this Scheme is used by You at Your own risk. You agree that Robert Walters will not be held liable for any loss or claim arising out of Your use of any Card under this Scheme.
You warrant that you will keep any log-in details or passwords made available to you through the Incentive Scheme strictly confidential and will indemnify Robert Walters for any loss or claim arising from your failure to do so.
After the successful completion of a Check, there will be an approximate 4-6 week wait time before You receive Your Card. We are not responsible for any delays to the wait time.
DON'T ABUSE IT, YOU'LL LOSE IT
You warrant that any referral You make under this Scheme is genuine, and not dishonest or otherwise fraudulent.
You will not be entitled to a Card if You, or the Candidate would breach any restrictions on such activity agreed in a contract with a former employer. It is highly likely that such restrictions will have been agreed with previous employers and employees should check their restrictions closely and take independent legal advice before taking any steps to breach them. We do not condone breaching restrictions agreed with former employers and will not make any payments in such circumstances.
We may, in our discretion, run any checks required to confirm that a referral is genuine. If for any reason We suspect a referral is fraudulent, We may decide to freeze the amounts made available to You whilst Your referral is fact checked.
[1] As part of a Check, you will be asked for the following information: full name, date of birth, full UK registered address, National Insurance number, copy of ID (drivers licence or passport)