What are you doing to boost your engineering career?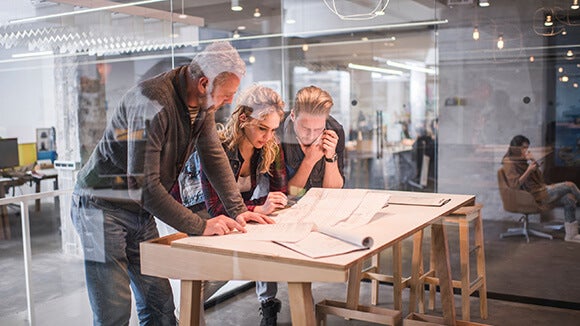 Employment prospects for engineering professionals are stronger than ever. The career is renowned for its high earning potential, international scope and responsibility to oversee and manage your own projects. With a thriving job market coupled with high demand for high-calibre engineering talent, there's also a high chance you'll find the best employer for you.
For engineering professionals looking to quickly progress in the industry, there are steps you can take now to fast-track your engineering career. Richard Lamplugh, Senior Consultant for manufacturing and engineering recruitment at Robert Walters, recommends six ways to advance in the engineering sector.
Develop your business skills
A significant difficulty for businesses employing junior engineering professionals is the deficiency of soft skills in the talent pool, causing a lack of 'work readiness'. As well as undergoing technical education, it's essential to gain 'real world work experience' to successfully progress in the field. Brushing up on your business skills will allow you to successfully adapt and progress quickly in a new role, you need to be able to exhibit advanced written and verbal communication skills, problem-solving ability and a strong commercial awareness. The way you interact with stakeholders and manage responsibility within your team is also a key capability businesses look for when developing talent to senior positions.
Build an impressive CV
With an active and rapidly changing job market, it's common for an engineering professional to make multiple job moves as candidates find businesses have more to offer in terms of responsibility and salary. At each of these job moves, it's important to grow your CV and demonstrate your development and contribution to each of your previous roles. Explicitly state the experience you've gained from each of your previous opportunities and include any quantifiable achievements. Always state your professional qualifications first as this is what employers will be looking for.
Businesses are looking for strong leadership skills and will examine how you can engage with different stakeholders
Pursue an advanced qualification
Latest research from EngineeringUK confirms that mean salaries for employed engineering and technology postgraduate taught professionals were 10.5% higher than the overall average for UK postgraduates in employment. An advanced engineering degree such as a postgraduate or doctoral degree will elevate your market worth and is rapidly becoming an industry requirement to build strong career momentum.
Be an innovator
Setting yourself apart from engineering professionals will involve looking outside your circle for fresh ideas to bring to the business. This involves keeping an eye on the market, but also experimenting yourself outside of work. When looking to impress an employer, a great way to stand out is to highlight and explain the design process of one of your personal projects and provide key takeaways that the business can learn from and incorporate into future projects.
See the bigger picture
Moving to a more senior engineering role requires analytical and strategic thinking, as well as an overarching view of the business. Businesses are looking for strong leadership skills and will examine how you can engage with different stakeholders. Interacting across all areas of the business will help you understand the financial and market impact of your company's products, as well as gain the qualities of a leader who can make informed business decisions. I'd recommend getting involved in the strategy and planning process and keeping up to date with financial performance to be able to advance to this level.
Be up to speed with new technologies
Joining associations, signing up for training programmes and generally exposing yourself to the wider engineering industry is a great way to stay ahead of the curve when it comes to encountering new technologies that will enhance the work in your field. Automation, robotics, AI, lean, Six Sigma and NEBOSH are some of the emerging technologies disrupting the engineering space that you should gain a strong understanding of.
Looking to fast-track your engineering career? Please contact Richard on richard.lamplugh@robertwalters.com for expert advice about how to advance in the industry or see our latest manufacturing & engineering opportunities.